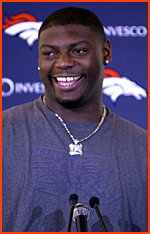 Dorsett Davis
Position: Defensive Tackle
College: Mississippi State
Height: 6-5
Weight: 304
Hometown: Cleveland, Miss.
Selection: Round 3 (96)
SCOUTING REPORT
Imposing physical specimen...Strong run stopper who is very active in the middle, anchoring with strength while using his hands well to defeat combo blocks...Has the lateral agility to pursue down the line...Extends his arms properly to wrap and secure the ball carriers...Very powerful in his upper body, using his hands to jolt blockers back on their heels...Plays the double team well, using his hands to beat coverage...Reacts and finds the ball quickly when rushing into the backfield...Has the balance and body control to stay on his feet when moving up-field...Has the lateral quickness to shoot the gaps and an explosive short burst to the ball carrier...Came to MSU as one of the most highly recruited defensive linemen in the nation out of Mississippi Delta Community College...Two-year starter with great desire and intensity in his game...Recorded 150 tackles (79 solos) with four sacks for minus 28 yards and 13 stops for losses of 55 yards in 32 games as a Bulldog.
2001 SEASON
Started every game, except vs. Mississippi at left defensive tackle...Recorded 55 tackles (28 solos) with a 2-yard sack and five stops for losses of 9 yards...Credited with three quarterback pressures and two pass deflections.
Memphis...Made 7 tackles (5 solos).
South Carolina...Had a stop for a 2-yard loss and 6 hits.
Auburn...Registered 9 tackles with two stops for minus 3 yards.
Troy State and Florida...Posted 3 tackles in both games.
Louisiana State...Had 6 tackles and a pressure.
Kentucky...Collected 5 tackles (4 solos) with a 2-yard sack and a pass deflection.
Arkansas...Made a career-high 10 tackles (7 solos), including one for a 2-yard loss.
Mississippi...Had two tackles.
Brigham Young...Deflected a pass.
2000 SEASON
Played in the first ten games, starting nine contests (came off the bench vs. Auburn) at left defensive end...Recorded 54 tackles (30 solos) with a 5-yard sack and four stops for losses of 9 yards...Caused a fumble and deflected five passes...Credited with four quarterback pressures.
Memphis...Had a 5-yard sack and 6 tackles (5 solos).
Brigham Young...Recorded 4 hits (3 solos) with a stop behind the line of scrimmage.
South Carolina...Registered 8 tackles (4 solos) and took down tailback Derek Watson for a 2-yard loss.
Florida...Collected 4 tackles.
Auburn...Posted two tackles.
Louisiana State...Had 7 tackles.
Middle Tennessee...Registered 6 tackles and caused a fumble on a hit he delivered to QB Wes Counts, to set up a touchdown drive.
Alabama...Had another 6 tackles (4 solos) with a stop behind the line of scrimmage.
Arkansas...Delivered 8 tackles (5 solos).
Texas A&M (Independence Bowl)...Credited with an 8-tackle effort.
1999 SEASON
Valuable reserve, seeing action in every game at defensive end...Recorded 41 tackles (21 solos) with two sacks for minus 21 yards and four stops for losses of 37 yards...Batted away three passes.
Oklahoma State...Sacked QB Tony Jones for an 11-yard loss and posted 5 tackles.
South Carolina...Had 6 tackles (3 solos) and a pressure.
Louisiana State...Recorded a pressure and 5 hits (4 solos).
Kentucky...Totaled 4 tackles and a 10-yard sack.
Arkansas...Made 4 tackles (3 solos), including one for a 15-yard loss.
Mississippi...Had 6 tackles (3 solos) and a stop behind the line of scrimmage.
Syracuse...Tallied 98 yards on 15 tries, including a 3-yard touchdown.
Clemson (Peach Bowl)...Delivered 3 tackles with a stop for a 2-yard loss, recovered a fumble and returned an interception 5 yards.
JUNIOR COLLEGE
Rated the third-best strongside defensive tackle in the country by Max Emfinger in his National Bluechips newsletter, a listing that combined both high school and junior college prospects at Mississippi Delta Community College...One of five defensive tackles named to Emfinger's JUCO Nifty Fifty listing of the top junior college players in the country... Did not play his first year of eligibility in junior college (1997), but started ten games at left defensive end in 1998.
AGILITY TESTS
5.0 in the 40-yard dash...31-inch vertical jump...430-pound bench press...575-pound squat...35 3/4-inch arm length...9 1/4-inch hands.
HIGH SCHOOL
USA Today honorable mention All-American on the defensive line following his senior season at East Side (Cleveland, Miss.) High...Ranked with the top prep defensive linemen in the Southeast by both the Collegiate Football Experts and G&W Recruiting Report magazines...Called the second-best defensive line prospect in Mississippi by the latter publication...Considered the 54th-best prospect regardless of position on Jay Shannon's SuperPrep Dixie 103 list in his All-America postseason issue...Named third-team, All-South and listed with the top 23 players in the state of Mississippi by Forrest Davis in his Football Recruiting Annual...Second highest-ranked defensive lineman on that list, and considered an impact player by that publication...Ranked eighth on the Jackson Clarion-Ledger list of the top 40 recruits in Mississippi...Dandy Dozen selection, he was named first-team, all-state by that newspaper on the defensive line...Selected to the Mississippi squad for the Alabama/Mississippi All-Star Football Classic...Extremely quick for his size, he made 102 tackles and eight quarterback sacks during his senior season...Helped his team to an 11-1 record and state playoff appearance...As a junior, he made 83 tackles, including nine quarterback sacks, and four fumble recoveries...An all-around athlete, he was a standout basketball player and track athlete on the high school level...Averaged 17 points and 10 rebounds during junior season on the hardwood, and finished second in the state with a shot put toss of 50-2.
PERSONAL
Fitness Management major...Son of Larry Davis...Born Dorsett Terrell Davis on 1/24/79 in Shelby, Mississippi...Resides in Cleveland, Mississippi.
Defensive Statistics

STATS

GP

GS

TK

SO

AS

FR

FC

INT

TFL

PBU

SACK

PRES

1999

11

0

41

21

20

0

0

0-0

4-37

3

2.0-21

4

2000

10

9

54

30

24

0

1

0-0

4-9

5

1.0-5

4

2001

11

10

55

28

27

0

0

0-0

5-9

2

1.0-2

3

TOTAL

32

19

150

79

71

0

1

0-0

13-55

10

4.0-28

11
Dorsett Davis
SELECTED BY DENVER , ROUND 3, PICK 31, OVERALL PICK 96                            MORE INFO
DT | (6-5, 304, 5.03) | MISSISSIPPI STATE
By Pro Football Weekly
Notes: Second in the state shot put and an all-state football and basketball player in high school. Went to Mississippi Delta Community College in 1997, but had to redshirt because of an eligibility problem (he signed scholarship papers with two different institutions). Started at Mississippi Delta in '98. Came to Mississippi State in '99 and played in every game. Did not start but shared time and had 41 stops, including two for loss, two sacks and broke up three passes. Missed one game and did not start another in 2000 because of knee and ankle injuries, but he did start the rest and had 54 tackles, including four for loss and one sack. Played in every game and started 10 in '01, when he had 55 tackles, including five for loss, and one sack. Generally lines up as a three-technique defensive left tackle in an unconventional 5-1-5 defense, which is a scheme in which the players do a lot of jumping around and risk taking.
Positives: Excellent size. Huge wingspan. Arms hang down to his knees. Looks the part. Strong in the upper body. Shows flashes of great power and good explosiveness when he plays with leverage and has his pads down. Can develop into a very powerful inside player if he will pay the price.
Negatives: Is not in very good shape and does not push himself that hard. Takes some plays off and runs out of gas quickly. Generally plays too upright with his pads too high, so he loses a lot of his power and leverage and gets really tall when he tires. Is late off the ball a lot. Does not change directions well and will struggle to redirect on his pass rush. Has a very limited repertoire of moves. Is basically a bull rusher.