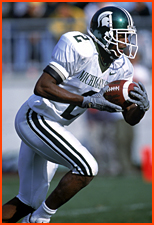 Herb Haygood
- # 13

Position:
Wide Receiver/Kickoff Returner
College: Michigan State
Height: 5-11
Weight: 193
Hometown: Sarasota, Fla.
Selection: Round 5 (144)
SCOUTING REPORT
Has good foot quickness and acceleration off the snap...Has the body control to make sharp cuts in his routes...Very alert of the sidelines, maintaining balance and adjusting in coverage... Creates separation from the defender with his burst, showing the vision to keep track of the ball in flight...Has the variety of moves needed to uncover and the speed to get open in the short area...Fearless in traffic, asserting himself to combat and reach for the ball at its highest point...Secures the ball immediately and rarely puts the ball on ground when taking on contact... Willing to extend and fight for the off-target passes...Has the foot agility and hip swerve to gain acceleration after the catch...Position and pester-type of blocker with the strength and effort to sustain...Can make defenders miss...Has the body control to make acrobatic catches at tough angles...Has the vision and quickness needed to avoid tackles...Versatile athlete who has proven to be a dangerous threat whether catching, running or returning the football...A key weapon in MSU's offensive playbook, Herb started the last two seasons for the Spartans...Finished with 115 receptions for 1640 yards (14.3 avg) and seven touchdowns...His 115 catches rank ninth and his 1640 yards 12th on the school's career-record list...Returned 76 kickoffs for 1770 yards (23.3 avg) and two scores... Only Derrick Mason (2575, 1993-96) gained more yards on kickoff returns in MSU annals.
2001 SEASON
All-American first-team selection as a kickoff returner by Walter Camp and CNN/SI, adding second-team honors from The Sporting News...All-Big Ten Conference honorable mention as a receiver by the league's coaches and media...Named the team's Outstanding Senior on both offense and special teams by the MSU Downtown Coaches Club...Recipient of the school's Captain's Award...Played in every game, starting vs. Central Michigan, Notre Dame, Iowa, Wisconsin, Michigan, Indiana and Purdue...Second on the team with a career-high 57 receptions for 808 yards (14.2 avg) and four touchdowns...Added 6 yards on a reverse...Returned 24 kickoffs for 632 yards (26.3 avg) and was one of only three Division 1-A players to return two kickoffs for touchdowns during the 2001 season...Only Derrick Mason (947 in 1995 and 966 in 1994) gained more yards on kickoff returns in a season for the Spartans.
Northwestern...Caught 3 passes for 31 yards and returned a kickoff 84 yards for a touchdown.
Minnesota...Had 8 receptions for 117 yards and 3 kickoff returns for 31 yards.
Wisconsin...Made 5 catches for 53 yards and a 12-yard score, adding 24 yards on a kickoff return.
Michigan...Gained 63 yards on 4 catches and 75 yards on a pair of kickoff returns.
Iowa...Became only the second player in school history to return two kickoffs for touchdowns in the same season, joining Derek Hughes as the only Spartan to accomplish that feat in back-to-back games as he tied a school record with a 100-yard return for a score...His 100-yarder matched the record first set by Derrick Mason vs. Penn State in 1994 and again matched by Mason in 1995 vs. Louisiana State...Finished with 115 yards on 2 kickoff returns, 6 yards on a reverse and 119 yards on 9 catches, including a 15-yard touchdown.
Indiana...Had 8 receptions for 132 yards with touchdowns of 18 & 13 yards.
Purdue...Caught 8 passes for 90 yards and returned 2 kickoffs for 33 yards.
Penn State...Gained 77 yards on 4 kickoff returns and 25 yards on 2 receptions.
Missouri...Caught 3 passes for 86 yards and returned 2 kickoffs for 40 yards.
Fresno State (Silicon Valley Bowl)...Had 5 receptions for 49 yards and 5 kickoff returns for 108 yards.
2000 SEASON
Shared MSU's Outstanding Underclass Back Award with tailback T.J. Duckett and cornerback Cedric Henry...Started every game, except vs. Northwestern...Caught 35 passes for 539 yards (15.4 avg) and two touchdowns...Returned 15 kickoffs for 346 yards (23.1 avg).
Marshall...Gained 34 yards on 4 catches.
Missouri...Caught 3 passes for 45 yards.
Notre Dame...Returned 2 kickoffs for 64 yards and had 3 receptions for 92 yards and a 68-yard touchdown...Caught an 11-yard slant from Jeff Smoker and then raced past ND safety Tony Driver for the additional 57 yards into the end zone.
Northwestern...Made 5 catches for 75 yards and gained 64 yards on two kickoff returns.
Iowa...Gained 75 yards on 4 receptions.
Wisconsin...Caught 3 passes for 62 yards and a 43-yard touchdown.
Michigan...Had 4 receptions for 56 yards.
1999 SEASON
Played in every game, earning his first career start vs. Wisconsin...Caught 11 passes for 145 yards (13.2 avg) and a touchdown...Carried twice for 24 yards (12.0 avg) and returned 26 kickoffs for 534 yards (20.5 avg).
Iowa...Scored on a 35-yard catch, finishing with 46 yards on two receptions.
Michigan...Returned 3 kickoffs for 72 yards.
Wisconsin...Had 5 receptions for 43 yards.
Penn State...Gained 99 yards on 3 kickoff returns, including a 51-yarder.
Florida (Citrus Bowl)...Returned 6 kickoffs for 132 yards.
1998 SEASON
Played in eleven games, catching 12 passes for 148 yards (12.3 avg)...Rushed twice for 16 yards and returned 11 kickoffs for 258 yards (23.5 avg)...Led the special teams unit with 14 tackles (9 solos).
Oregon...Made 3 catches for 36 yards and posted a pair of tackles.
Michigan...Gained 22 yards on 3 receptions, 82 yards on a pair of kickoff returns, including a 67-yarder and delivered 2 tackles.
Minnesota...Registered 4 tackles (3 solos).
Northwestern......Had another 2 tackles while also catching 3 passes for 58 yards.
AGILITY TESTS
4.45 in the 40-yard dash...33-inch vertical jump...Bench presses 225 pounds 15 times...31 1/2-inch arm length...8 1/4-inch hands...Right-handed.
HIGH SCHOOL
Midwest Football Recruiting Magazine All-American selection and ranked as the Southeast's No. 3 running back by The National Recruiting Advisor at Sarasota (Fla.) High...Also listed as one of the nation's top 10 all-purpose backs by the same scouting service and was named to Tom Lemming's Prep Football Report All-Southeast Team and SuperPrep's All-Dixie Team...First-team All-State selection as a senior...Earned All-Area honors three-straight years...Selected to play in Florida's North-South All-Star Game in Jacksonville... Named Sarasota-Manatee County All-Star Game MVP after gaining 114 yards on 10 carries and scoring twice...Four-year starter who rushed for 1770 yards (7.2 avg.) and scored 26 touchdowns in 1996...Had a single-game high 359 yards rushing vs. Venice High School...Gained 3258 yards rushing (6.5 avg) and scored 41 touchdowns during his prep career.
PERSONAL
Kinesiology major...Born 12/29/77...Resides in Sarasota, Florida.
Receiving Statistics

R/PG indicates receptions per game

GM/AVG indicates average yards gained per game

STATS

GP

GS

NO

YARDS

AVG

TD

LONG

R/PG

GM/AVG

1998

11

0

12

148

12.3

0

36

1.09

13.45

1999

12

1

11

145

13.2

1

35

0.92

12.08

2000

11

10

35

539

15.4

2

68

3.18

49.00

2001

12

7

57

808

14.2

4

47

4.75

67.33

TOTAL

46

18

115

1,640

14.3

7

68

2.50

35.65
Kickoff Returns

Rushing Statistics

STATS

NO

YARDS

AVG

TD

LONG

NO

YARDS

AVG

TD

LONG

1998

11

258

23.5

0

67

2

16

8.0

0

9

1999

26

534

20.5

0

51

2

24

12.0

0

29

2000

15

346

23.1

0

42

3

-4

-1.3

0

7

2001

24

632

26.3

2

100

1

6

6.0

0

6

TOTAL

76

1,770

23.3

2

100

8

42

5.3

0

29
Special Team Tackles

STATS

TK

SO

AS

FR

FC

1998

14

9

5

0

0

1999

7

2

5

0

0

2000

4

4

0

0

0

TOTAL

25

15

10

0

0
Herb Haygood
SELECTED BY DENVER , ROUND 5, PICK 9, OVERALL PICK 144                            MORE INFO
WR | (5-11, 193, 4.47) | MICHIGAN STATE
By Pro Football Weekly
Notes: Top high school running back who tore his anterior cruciate ligament at the end of his prep career. Had surgery and redshirted at Michigan State in '97 to let his leg heal. Moved to wide receiver in '98 and caught 12 passes for 148 yards and no scores coming off the bench. Also returned 11 kickoffs for 258 yards and carried the ball twice for 16 yards. Made his first start in '99 and ended the season catching 11-145-1, with 26 kickoff returns for 534 yards and two carries for 24 yards. Started 10-of-11 games in 2000. Caught 35-539-2 and returned 16 kickoffs for 346 yards. Had clean-up knee surgery in February of '01 to remove some particles or chips from his right knee, and the knee ended up getting infected. Came back in the fall to catch a career-best 52-759-4 and to return 19 kickoffs for 524 yards and two touchdowns. Was named to the Walter Camp All-America team as a kick-return specialist in '01.
Positives: Has improved in all areas and made his senior season his best. Good athlete. Has quick hands. Can pluck the ball at times. Runs well with the ball after the catch and returned two kickoffs for scores in '01. Shows speed as a return man and can break a long return.
Negatives: Is not very sudden. Has build-up, not sudden, speed as a receiver and is not a top deep threat on offense. (However, he looks a lot faster and more explosive on returns.) Still can be inconsistent catching and, at times, will drop easy throws because he is looking to run before he secures the ball. Will look a little stiff at times and lacks polish as a route-runner.
Summary: Has a good chance to make it as a backup receiver and kick returner if he continues to improve and works very hard on his skills and technique.