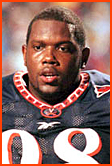 Monsanto Pope # 75
Position: Defensive Tackle
College: Virginia
Height: 6-3
Weight: 295
Hometown: Hopewell, Va.
Selection: Round 7 (231)
SCOUTING REPORT
Late bloomer who emerged as a run-stuffing force in his senior year...Versatile and quick enough to play any position on the defensive front wall...Recorded 170 tackles (104 solos) in 39 games, including seven sacks and 20 stops for losses of 73 yards.
2001 SEASON
All-Atlantic Coast Conference honorable mention...Shared the Ned McDonald Award as the team's Outstanding Defensive Player with linebacker Angelo Crowelll...Came into his own as a senior, tying the school season record for interior linemen with 98 tackles (59 solos)...Had five sacks for minus-21 yards and nine stops for losses of 29 yards...Caused and recovered a fumble...Started every game at nose guard.
Wisconsin...Opened the season with an assisted sack and nine tackles (five solos).
Clemson...Sacked quarterback Woodrow Danztler for a 3-yard loss and posted 12 hits (eight solos).
Virginia Tech and Maryland...Posted 15 tackles (10 solos) in both games.
North Carolina...Registered nine tackles (five solos) with a 10-yard assisted sack and a pair of stops behind the line of scrimmage.
Florida State...Sacked quarterback Chris Rix and made seven tackles (six solos).
Wake Forest and Georgia Tech...Came up with six tackles (four solos) and a stop behind the line of scrimmage in both contests.
2000 SEASON
Received the Colonel Frank C. McCue Award as the team's Outstanding Interior Lineman...Lined up at strongside defensive tackle...Recorded 33 tackles (27 solos) with two sacks for minus-23 yards and six stops for losses of 31 yards...Caused a fumble and blocked a kick...Had a pair of pass deflections.
1999 SEASON
Started five games at defensive tackle (season opener) and end, finishing with 11 tackles (eight solos) and two stops for losses of 4 yards.
1998 SEASON
Appeared in every game, starting vs. Clemson, Duke, North Carolina State, Wake Forest and Virginia Tech at nose guard...Recorded 28 tackles (10 solos) with three stops for losses of 9 yards...Recovered a fumble and deflected two passes.
1997 SEASON
Redshirted as a freshman.
AGILITY TESTS
5.16 in the 40-yard dash...2.91 in the 20-yard dash...1.8 in the 10-yard dash...335-pound bench press...485-pound squat...343-pound power clean...16.5 percent body fat...32 1/2-inch arm length...9 1/2-inch hands
HIGH SCHOOL
Three-year starter in football at Hopewell (Va.) High...Chosen first-team All-State Group AAA by The Associated Press and All-Region at defensive end as a senior...Also named the Central District's Defensive Player of the Year after helping lead Hopewell to the playoffs for the first time since 1988...Made the All-District first team at defensive end, tight end and punter, as a senior...Team captain...Rated one of the top-25 football prospects in Va., by the Roanoke Times...Selected to Charlottesville Daily Progress/Lynchburg News & Advance "Gold List"...Had 88 tackles, including six quarterback sacks in 1996...also intercepted a pass, blocked a kick and caused six fumbles...Caught 10 passes for 250 yards and a touchdown at tight end...Also handled kickoffs...As a junior, he recorded 67 tackles, including seven sacks, intercepted a pass and recovered four fumbles...Offensively, he had nine catches for 168 yards and two touchdowns...Second-team All-Region at defensive end in 1995...As a sophomore, had 42 tackles, three sacks and an interception...All-District selection at defensive end in 1994...Earned three letters in basketball...Helped lead Hopewell to Group AAA state finals as a junior...First-team All-State Group AAA selection and the state's leading scorer as a senior, averaging 28 points per game.
PERSONAL
Anthropology major...Lives with grandmother, Geraldine Pope...Has two brothers, Ronnie (25) and Maurice (21), and a sister, Christine (20)...Born Jan. 27, 1978 in Norfolk, Va.,...Resides in Hopewell, Va.
Defensive Statistics

STATS

GP

GS

TK

SO

AS

FR

FC

INT

TFL

PBU

SACK

PRES

1998

11

5

28

10

18

1

0

0

3-9

2

0.0-0

4

1999

5

5

11

8

3

0

0

0

2-4

0

0.0-0

1

2000

11

11

33

27

6

0

1

0

6-31

2

2.0-23

13

2001

12

12

98

59

39

1

1

0

9-29

0

5.0-21

4

TOTAL

39

33

170

104

66

2

2

0

20-73

4

7.0-44

22
Monsanto Pope
SELECTED BY DENVER , ROUND 7, PICK 20, OVERALL PICK 231
DT | (6-3, 295, 5.24) | VIRGINIA
By Pro Football Weekly
Notes: Has run from 5.1-5.15 on a very fast surface. Fifth-year player who started five times and played in 11 games as a second-year freshman in 1998. Started the '99 opener at defensive tackle. Injured his left knee and missed the next six games before returning and starting the last five games at defensive end. Started every game at defensive tackle in 2000 and every game at nose tackle in the team's new 3-4 defense in '01. Had 28 tackles, including three for loss, and no sacks in '98; 11-2-0 in '99; 33-6-2 in 2000; and 98-9-3 1/2 in '01, when he started every game at nose tackle.
Positives: Can get bigger and stronger and has good natural size and strength. Played well in a two-gap defense in '01, much better and more consistently than he ever had played in the past. Has some quickness and initial quickness. Generally plays hard, tough and disciplined football when he bends his knees and keeps his pads down. Can play on the nose, as a 4-3 tackle or a 3-4 end.
Negatives: Small for a two-gap type of nose-tackle. Is somewhat inconsistent off the ball. Lacks pass-rush ability and closing speed. Will start playing too upright when he gets tired.
Summary: Showed tremendous improvement in '01 but still has limitations. Needs to get into even better shape and to work even harder to play on the next level.